Anti-Hazing Bill Introduced As Penn State Hazing Case Resumes With New Prosecutor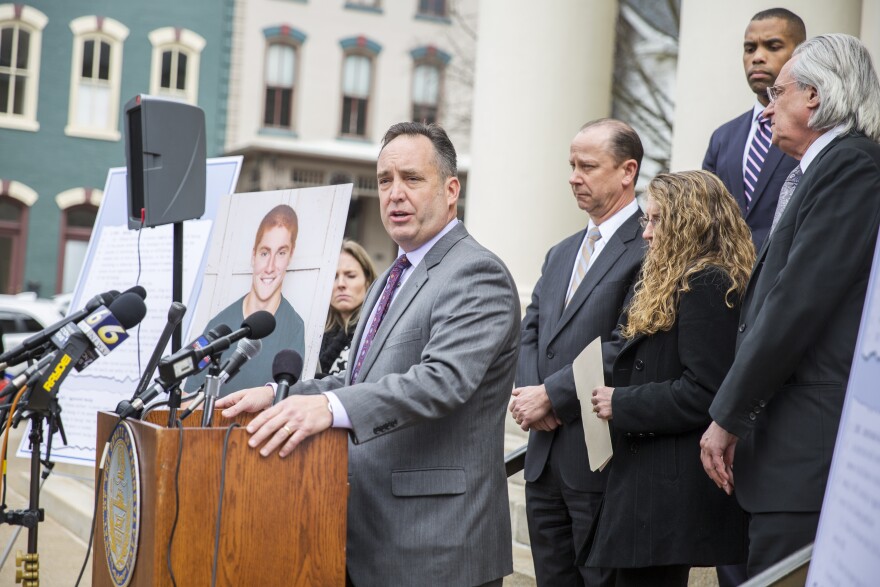 Updated on March 23, 8:59 p.m.
The preliminary hearing for the Penn State hazing death case resumed on Friday in the Centre County courthouse.
Eleven former Beta Theta Pi members are facing charges in relation to the death of pledge Timothy Piazza in February 2017. Those charges range from involuntary manslaughter to hazing. All 11 defendants waived their right to be in court.
Brian Zarallo, chief deputy attorney general for Pennsylvania, said the prosecution plans to present the case "fully and adequately in context."
Zarallo said the prosecution will include a two-hour compilation of the security footage captured at the house on the night of the tragedy. Despite heavy objections from defense attorneys, Judge Allen Sinclair said Zarallo can proceed, but will stop him if he's seen enough. The video was not shown on Friday.
Prosecution and defense cross-examined Centre County forensic pathologist Dr. Harry Kamerow on the first day of the new hearings.
Kamerow detailed the cause of Piazza's death and said he would have had a higher probability of survival if he was sent to hospital earlier than he was. After having 18 drinks in 82 minutes on bid acceptance night, Piazza fell down the stairs inside the fraternity house and fraternity brothers did not call for an ambulance until the next morning. Kamerow also testified that the defendants wouldn't have the medical knowledge to diagnose Piazza's severe injuries.
Piazza died from severe head trauma, traumatic brain injury and a ruptured spleen, according to the pathologist on the case. It was ruled an accidental death.
There were multiple heated exchanges throughout first day of the hearing over what the prosecution presented. Defense attorneys said the proceeding should aim for "organization and efficiency," and they don't need to hear the same evidence over again.
But, Tom Kline, lawyer for the Piazza family, said he believed the new prosecution was approaching the case in a way that's more nuanced and more targeted.
"The theory is very specific," he said. "It was good to hear and see the medical testimony in the courtroom today. In all the previous days of hearing, we hadn't heard this crucial link."
Outside the courthouse, during a break from the proceedings on Friday, state Senate Majority Leader Jake Corman released the details of legislation he is proposing to the General Assembly. The "Timothy J. Piazza Antihazing Law" would toughen hazing penalties in Pennsylvania.
The proposed bill will create tiers for hazing, which is currently considered a misdemeanor. Under the bill, hazing resulting in bodily injury would be a third degree misdemeanor, while hazing resulting in serious bodily injury or death would be a third degree felony, with a prison sentence of up to seven years.
The legislation would also create categories of "organizational hazing" and "institutional hazing."
In addition, a "safe harbor" amnesty policy would protect those who seek assistance for someone in need of help from hazing charges.
With Jim and Evelyn Piazza at his side, Corman praised their efforts to advocate for the anti-hazing law.
"They are here to channel that pain and sorrow into doing something good for the future students and parents of our commonwealth and our country," Corman said.
"Our emotions are mixed, because as much as we believe in the need of this legislation, the very reason why we are here reminds us of how much our lives have been impacted over the past 13 months as a result of hazing," Jim Piazza said.
Corman said state AG Josh Shapiro as well as the Pennsylvania District Attorneys Association are supportive of the bill, and he is confident the bill will pass both the state senate and house.
Penn State president Eric Barron was at the courthouse to support Corman's proposed legislation.
Since Piazza's death, Penn State has permanently banned the Beta Theta Pi fraternity from campus and rolled out a series of aggressive measures to monitor Greek organizations at the university.
In an op-ed piece titled, "It takes all of us to fight dangerous drinking on college campuses," Barron listed the hurdles Penn State faces in anti-hazing efforts. He called for a nationwide change to ensure student safety.
State College Police Detective David Scicchitano also testified on Friday. Prosecution spent much of the afternoon examining text messages sent between fraternity members from fall 2016.
The hearing will continue on Monday.